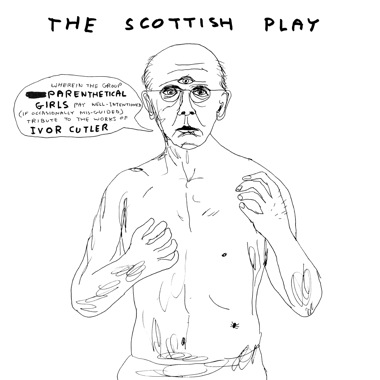 The Scottish Play: Wherein the Group Parenthetical Girls Pay Well-intentioned (if Occasionally Misguided) Tribute To the Works of Ivor Cutler
Artist
Label
Release Date
2009-12-08
Parenthetical Girls:
The Scottish Play: Wherein the Group Parenthetical Girls Pay Well-intentioned (if Occasionally Misguided) Tribute To the Works of Ivor Cutler
Parenthetical Girls are a marginal pop group from Portland, Oregon. They have released a handful of records, most notably last year's celebrated and sprawling orchestral pop opus Entanglements—a concept record so lush and beautiful that most people neglected to notice that it was about pedophilia. Their songs have been described as lascivious, unseemly, and grotesque. But their songs are also called lovely.

Over the past several years, Parenthetical Girls have developed a collective obsession with the life and works of Mr. Cutler—so much so that they decided to devote two full sides (an astonishing eleven-and-a-half minutes!) of a ten-inch LP to pay tribute to his gentle genius. Packaged in a silk-screened sleeve designed by renowned illustrator (and fellow Glaswegian) David Shrigley, this extremely limited release (500 total copies!) features Parenthetical adaptations of four songs and four prose poems from across the dense Cutler discography. These sparse, meditative recordings are a far cry from the chamber pop bombast of Parenthetical Girls' recent output, as the group continues to skirt sonic expectations with yet another creative 180. Which means we're back to where we started. As good a place as any for this to end, I suppose.