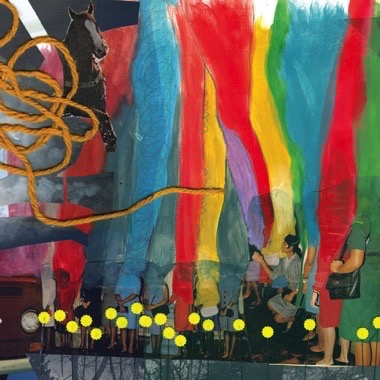 Paranoid Cocoon (10 Year Anniversary Reissue)
Artist
Label
Release Date
2019-05-10
Cotton Jones:
Paranoid Cocoon (10 Year Anniversary Reissue)
Paranoid Cocoon is an album full of quiet, wooden psychedelia reflecting Cotton Jones' casual pursuit of comfort and freedom. Under the mountains of Cumberland, Maryland, where creeks zigzag in the lonesome dark of the forest and a red moon hangs overhead, these songs were born of leaving, of dreams both good and bad, sung from surroundings the band has known their whole lives. Paranoid Cocoon is simple, understated perfection: they sound timeless from singing together forever.

At its debut, Michael Nau noted the presence (and absence) of time's influence on Paranoid Cocoon. "Cocoon didn't span a lengthy duration of time, so head-space and moods tended to remain thread-like throughout. I believe there's a familiar mood from start to finish...the lyrics work like visuals of such moods." The 10-year anniversary reissue of Paranoid Cocoon celebrates this mood, which remains peacefully untouched and seamlessly woven into the hearts of long-time listeners and new fans alike.