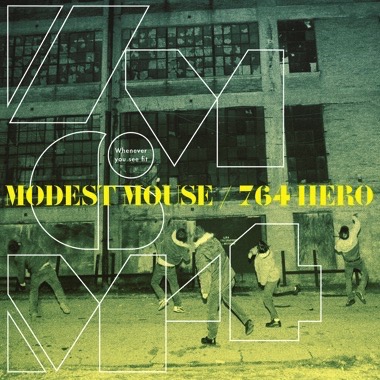 Whenever You See Fit
Artist
Label
Release Date
2016-07-08
Modest Mouse / 764-Hero:
Whenever You See Fit
The mid-'90s were an interesting time in Seattle. The city had just experienced its brief period in the rock n roll limelight, but it was still a lonely outpost in a largely ignored corner of the United States. Touring bands were reluctant to make the trek up from San Francisco, or across the mountains from Denver, or from across the Great Plains from Minneapolis. There were barely any all-ages venues to play in town. Bands like Modest Mouse and 764-Hero helped fill the rainy void with a relentless schedule of writing and playing out. That creative thirst and no-one's-watching mentality prompted a lot of artistic exploration and experimentation, a phenomenon best captured on the collaborative single "Whenever You See Fit". Marrying Modest Mouse's jagged blowouts with 764-Hero's pensive songwriting, the track slowly came together over the course of a tour together, with the bands taking the stage together nightly and dueling over a few fleshed out chords. The resulting 15-minute marriage of sparse pop and guitar sturm-and-drang perfectly captured the wistful artistry and punk turbulence of Northwest indie rock at the close of the century. As part of their 20th anniversary celebratory series, Suicide Squeeze is proud to offer a vinyl repress of "Whenever You See Fit" with updated artwork by esteemed designer Jesse LeDoux. The 12" single - also featuring remixes by DJ Dynamite D and Scientific American on side B - is limited to 1000 copies on half blue and half yellow wax, includes a download coupon, and will be the first time the record has been available on colored vinyl.