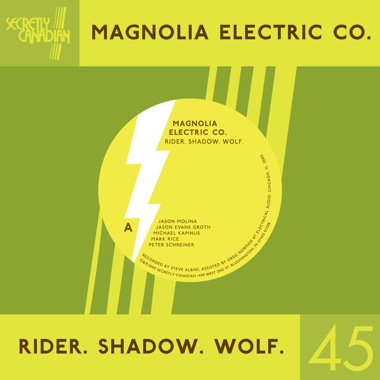 Rider.Shadow.Wolf. b/w Josephine
Artist
Label
Release Date
2009-09-22
Magnolia Electric Co.:
Rider.Shadow.Wolf. b/w Josephine
You keep on your eyes on the horizon long enough, you're bound to hit the coast. Jason Molina and the men of Magnolia Electric Co. have explored all realms of classic rock - from the subtleties of folk to charging Crazy Horse meditations. Now, on Rider.Shadow.Wolf. the band brings a surf-rock dynamic to its signature punch. This is where the tired rider, just having battled the desert, meets the eternity of an ocean.

Also found here is a stripped-down, early take of "Josephine" from the band's recent longplayer of the same name. This particular recording of Josephine was laid down just after the song's inception, during the session that will later be released as a collaborative album from Molina and Will Johnson of Centro-matic. This version features Molina and Magnolia utility man Michale Kapinus on keys, and serves as a preview of what's to come in the arch of Molina's career.