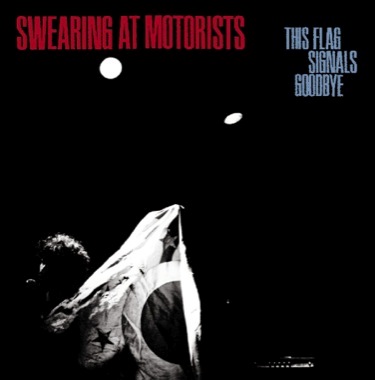 This Flag Signals Goodbye
Artist
Label
Release Date
2002-06-04
Swearing At Motorists:
This Flag Signals Goodbye
In the year and a half since Swearing at Motorists released NUMBER SEVEN UPTOWN in 2000, the band has played over 200 shows in North America and Europe and has developed the reputation of being one of the most energetic and charismatic American bands around today, both on stage and on record. Dubbed a veritable "two-man Who" by more than one critic, this Dayton, Ohio twosome -- fronted by singer/songwriter Dave Doughman and backed by drummer Joseph Siwinski -- brings to mind Twin/Tone-era Replacements and early Elvis Costello for their ability to translate their legendarily venomous and soulful live show to record. Coming hot on the heels of the ALONG THE INCLINED PLANE EP, THIS FLAG SIGNALS GOODBYE is one of those records that will stand the test of time. Recorded by Brian McTear in Philadelphia, Pennsylvania, it is vintage Motorists -- a perfect combination of compact stadium rock sing-alongs and lucid love songs that portray a character at the mercy of his own destiny. On the ol' record shelf, THIS FLAG SIGNALS GOODBYE would sit nicely next to WHISKEY BENT AND HELL BOUND, Hank Williams, Jr.'s dissertation on how the road and its many appetites can devour one's personal life. And it's Doughman's ability to make the personal so universal that makes his songs feel so right in about every context. It only takes one listen to this half-hour classic to be caught by its intensity and personality. In much the same way that contemporaries the White Stripes are proving that there's no novelty to a two-person band, the Motorists are proving that a guitar/drum duo can rock with the same immediacy as a traditional 3- to 5-piece rock band with a full rhythm section.Borne of Dayton's burgeoning independent rock scene of the early '90s, the Motorists took some initial cues from locals such as Guided By Voices and the Breeders, but over the course of an ever-expanding body of work (which includes 2 full-lengths, 2 mini-albums and several singles and EPs) have evidenced that their sound is purely Swearing at Motorists, through and through. Secretly Canadian is proud to present this next chapter in the Motorists saga, THIS FLAG SIGNALS GOODBYE.