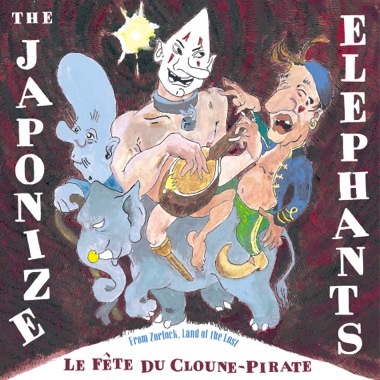 Le FĂȘte du Cloune-Pirate
Artist
Label
Release Date
1998-03-01
The Japonize Elephants:
Le FĂȘte du Cloune-Pirate
After the world-wide success of BOB'S BACON BARN, the Elephants honed their bowing arms and picking fingers to deliver their second call to sea, LE FETE DU CLOUNE-PIRATE. The Elephants have successfully stapled together the fringe of bluegrass and jazz with Middle-Eastern melody and late night absurdity. At times it seems if the living spirit of jazz legend Moondog has gotten a leg up on the Elephants as two alto-saxophones carry out each jam. Still sticking to the bluegrass framework, the banjo, upright bass and guitar carry the heavy riffs of twang as the fiddle and flute intertwine into thick strands of fusion. Rollicking and kicking up dust the junk percussion set up keeps time as the chimes, vibes and glockenspiel add the accents and country tingles.