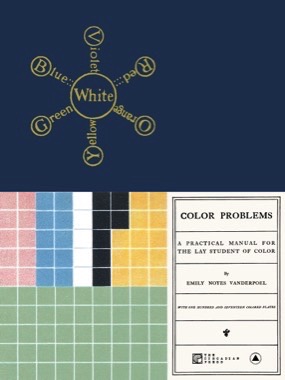 Color Problems (Paperback)
Artist
Label
Release Date
2018-12-07
Emily Noyes Vanderpoel:
Color Problems (Paperback)
Emily Noyes Vanderpoel (1842-1939) was an artist, collector, scholar, and historian working at the dawn of the 20th century. Her first and most prominent work, Color Problems: A Practical Manual for the Lay Student of Color, provides a comprehensive overview of the main ideas of color theory at the time, as well as her wildly original approaches to color analysis and interaction. Through a 21st century lens, she appears to stumble upon midcentury design and minimalism decades prior to those movements.

This book has for too long languished in antiquarian book markets, never receiving its proper audience. With this publication, we aim to change that, and have taken meticulous measures to reproduce the original artifact with this new edition. Using the most current digital methods and archival printing production, we aim to do justice to Vanderpoel's forgotten legacy as visionary and pioneer.