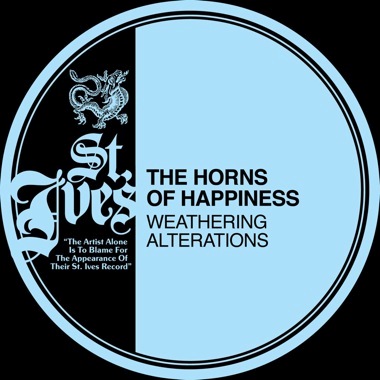 Weathering Alterations
Artist
Label
Release Date
2009-10-06
The Horns Of Happiness:
Weathering Alterations
The Horns of Happiness return to the recorded world with their first release since 2007's What Spills Like Thread EP. Here we find the band in concept mode, balancing its pounding rhythms and airy melodies to create a soundtrack piece entitled Weathering Alterations. The band's normally speedy and structure-damaged tunes begin to stretch out, allowing repetition and space to create new moods. Originally performed as an accompaniment to the J. Shelley Harrison installation piece "Don't Rain On My Parade", the recording focuses on the reaction of the psyche to unexpected changes in environment. While this is not the true follow-up to the band's only full-length album, 2004's A Sea As A Shore, the record is a moody, rocking, and nonsensical song cycle. As with all St. Ives releases, this album is only available digitally and as hand-made limited edition vinyl (only 200 copies).