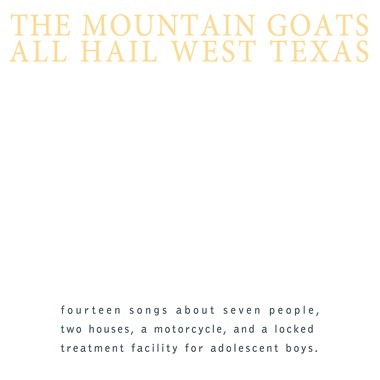 All Hail West Texas
Artist
Label
Release Date
2013-08-06
The Mountain Goats:
All Hail West Texas
The last of the "all-home-recordings albums" by the Mountain Goats and the only one about which that claim is true, ALL HAIL WEST TEXAS was originally released as a free-standing compact disc on the late, lamented Emperor Jones. That was about a decade ago. The songs were originally transferred from the cassettes onto which they were recorded to 1/2" reels at Tiny Telephone by Alex Newport, who also played in Fudge Tunnel. John got really excited when he realized his tapes were being EQ'd by the guy from Fudge Tunnel.

Remastered from those reels, along with 7 unearthed songs from the two surviving contemporaneous cassettes, All Hail West Texas stands as the peak of the Mountain Goats' home recording era, a time people like to refer to as "when John Darnielle had his four-track," except John did not actually use a four-track. He used the condenser mic of a Panasonic boombox and there was no overdubbing.

The LP is packaged in a deluxe gatefold jacket and includes a digital download of the full record plus the seven additional tracks. The CD, which includes the full album and extra tracks on one disc, comes in a premium digipak with a 12-page booklet.