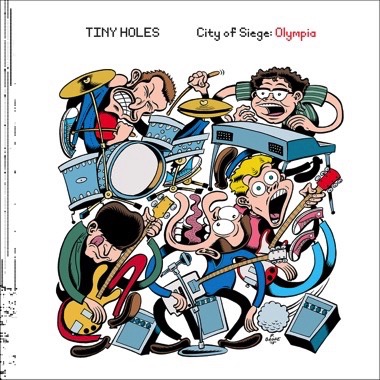 City of Siege: Olympia
Artist
Label
Release Date
2019-05-17
Tiny Holes:
City of Siege: Olympia
Tiny Holes is the avant-new wave-dance super group you never heard of. These future legends of independent music skirted the fine line between obscurity and nothingness, producing a small, effective body of cheeky noise. Seattle uber-producer Jack Endino, who mixed and mastered the album, says "The whole thing is impossibly brilliant".

Electronic music pioneer Steve Fisk and burgeoning sound artist Steve Peters started a quirky electro-pop project called Customer Service. After moderate exposure in Olympia and Seattle (their first gig was opening for Gang of Four), this duo morphed into a trio with future fanzine publisher, cassette-zine visionary, and Sub/Pop record mogul Bruce Pavitt, called Professional Ethics. The rhythm section of drummer Phillip Hertz and bass monster Paul Tison came on board, and Tiny Holes was born. For a year they annoyed the neighbors and laid waste to dance floors in Olympia, Seattle and Portland. This album is from their last show, recorded on a mobile 8-track. Producer Jack Endino agreed to handle the mix, comix artist Peter Bagge was drafted to create cover art, and here we are.