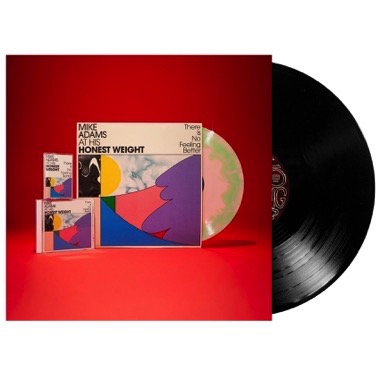 There Is No Feeling Better
Artist
Label
Release Date
2019-06-14
Mike Adams At His Honest Weight:
There Is No Feeling Better
**NOTE - Colored Vinyl pictured is fictional! It is JUST the cover artwork!**

There Is No Feeling Better, the fourth album from Bloomington, Indiana's Mike Adams at His Honest Weight finds the titular Adams-the singer/songwriter/multi-instrumentalist/producer at the center of the independent pop institution-focused less on who he is and more on where he is. Though the album's not short on truthful introspection, it's an outward gaze that defines these eleven songs. It's the kind of record you can make only after really knowing how to make records. It's ambitious, but never labored sounding, sweeping but always intimate.

Pulling from disparate sources, like retro-pop era Starflyer 59, ELO, the Beach Boys at their most transcendental, the Southern gospel of the Isaacs, and the dead-serious humor of The Roches, Adams has shaped these touchstones into a new world. The sock hop mysticism of "Free & Reduced," the noir mood of "That's One Way," the lush cooing of "Educated Guess," the daydream pop of "Olivia"-you can live in songs like these. They're testaments to the act of creation and recreation, examinations of the glee that can be accessed by ripping up the map and getting lost.