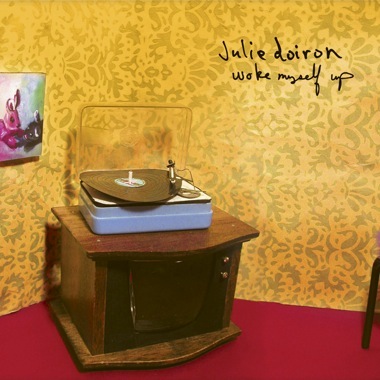 Woke Myself Up
Artist
Label
Release Date
2007-01-23
Julie Doiron:
Woke Myself Up
We all are driven to doing certain things and making certain decisions in our lives for any number of reasons, be it ambition, fear, greed or love. The last purpose is perhaps the most identifiable to most of us, and so it is no great mystery that that which drives us can both reward us immensely and plummet us into the greatest depths of inconsolable sadness and regret. On Julie Doiron's first album of new material in over two years, she addresses in her signature intimate songwriting style both the heights and the fallout in a way that forces the listener to reexamine their own loves.

One of the most important and greatest loves in Julie's life is that towards her family. The first half of Woke Myself Up details the joy and awe that her family has given her. Immediately, one knows that her unabashed and unaffected lyrics are coming from a woman truly moved. The second half sees Julie making mistakes, blowing second chances, and coming to terms with the sad truth that one cannot live up to expectations set by herself or those she loves. The harrowing untitled final track (recorded and added to the album at the eleventh hour by Doiron) may very well be the most affecting of Doiron's performances ever committed to tape.

Also important to the recording of this album was a reunion of sorts with her musical family. Founding Eric's Trip bandmate Rick White produced and played on the entire album, and a handful of the songs contain the entire original Eric's Trip band nucleus that took the Canadian indie underground by storm 15 years ago. Working with an old friend and collaborator like White was key to this album's intensely vulnerable and emotionally raw tone. What's captured is timeless and universal, in the same way as Cat Power's Moon Pix, Leonard Cohen's Songs of Love And Hate, and Joni Mitchell's Blue.