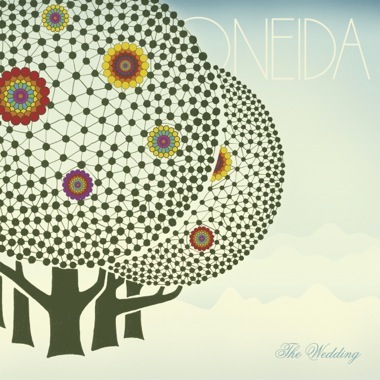 The Wedding
Artist
Label
Release Date
2005-05-03
Oneida:
The Wedding
Oneida came up with the idea for The Wedding in early 2001, and immediately began building the largest music box on the east coast of the United States. Built of plywood, salvaged marine pilings, industrial motor parts and over seventy saw blades, the hand-cranked behemoth was assembled in the warehouse loading dock that's also home to the Vale of Tears, Oneida's own recording studio. By hammering nails and spikes into the cylindrical pilings at carefully mapped intervals, and rotating the pilings through thickets of variably-tensioned saw blades, Oneida created and recorded unearthly tones and melodies; these were subsequently used as the basis for a series of melancholy, yearning songs that now see the light of day as The Wedding.

After working for several years to complete the songs, the band added a number of complex, lush string arrangements. Brian Coughlin, leader of the NYC new music group Fireworks Ensemble, contributed his arranging talents and assembled a group of string players whom he felt were capable of understanding the unusual demands of the songs at hand. "Other than my version of Stravinsky's The Rite of Spring for Fireworks, no arranging task has pushed my skills and talents to such extremes as the music of Oneida," according to Coughlin. "The emotional complexity of the music is unmatched -- except maybe by the steel-drum version of 'Stairway to Heaven' I arranged for an amusement park," he laughs.

Other guests at The Wedding include Phil Manley of Trans Am, Adam Davison of Company (who also appeared on Oneida's recent EP Nice/Splittin' Peaches), Brad Truax of Home, and avant-garde piano wizard Emily Manzo.