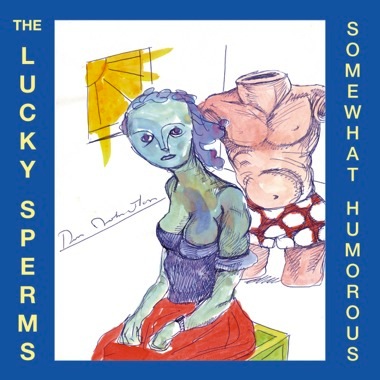 Lucky Sperms: Somewhat Humorous
Artist
Label
Release Date
2001-10-29
Jad Fair & Daniel Johnston:
Lucky Sperms: Somewhat Humorous
The Lucky Sperms: Somewhat Humorous by Jad Fair and Daniel Johnston is being released hot on the heels of the Jagjaguwar reissue of Jad and Daniel's once-sadly-overlooked opus It's Spooky (originally released in 1989.) It is a timely reunion of two of the most compelling and idiosyncratic songwriters to emerge from the post-punk rubble of the late-'70s. Their initial collaboration on It's Spooky seemed too good to be true. This time they have entered into the proverbial bat-cave with co-conspirator Chris Bultman and have created a piece of heaven on earth.

Recorded and produced by Jad Fair, The Lucky Sperms: Somewhat Humorous is made up mostly of songs composed skeletally and separately by Bultman, Fair and Johnston. With Bultman being the x-factor notwithstanding, what makes all of Jad and Daniel's shared works so special is the natural chemistry between them that is so readily apparent upon first listen of the record. There is an unrefined playfulness in their work, a playfulness not much unlike what was present on Bob Dylan and The Band's Basement Tapes.

Both Fair and Johnston have enjoyed long careers making music in their own unique way. They have forged their own paths and created their own mythologies, borrowing little from anybody else. Since 1977, Fair has--with his iconoclastic band Half Japanese, as a solo artist, or with collaborators Yo La Tengo, the Pastels or Teenage Fanclub--defied convention while continually tapping that primal-root-without-inhibition that most every artist strives for. Johnston, likewise, has unflinchingly plowed forth for the past twenty years with his own artistic vision. Since the early days of hawking his boombox-recorded cassettes on Austin, Texas, street corners, through his classic mid-period Shimmy-Disc albums, through the major label fiasco and to now, as he is at long last re-emerging as a public artist, Johnston has been making a clear case for his being one of this past quarter century's most important songwriters. He is nothing less than a visionary. It is no surprise, then, that each of Jad and Daniel's trademark personalities are in full-regalia on this new record. (How could such large personalities be anything but?) It blissfully follows--true to the form of all of their past works--that The Lucky Sperms: Somewhat Humorous is another chapter in a magical trip through the child-like universe of two kids at heart. On it, both of them uninhibitedly walk you through their best fantasies and worst dreams.