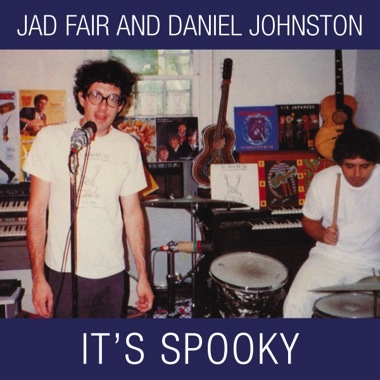 It's Spooky
Artist
Label
Release Date
2007-03-06
Jad Fair & Daniel Johnston:
It's Spooky
First released in 1989 on Jad's own 50 Skidillion Watts Records, Jad Fair & Daniel Johnston's IT'S SPOOKY (as it was called for the European pressing; the American version carried the title Daniel Johnston & Jad Fair) seemed like the perfect pairing of two of the most unique and idiosyncratic songwriters to emerge from the post-punk rubble of the late-'70s. Jad and his brother David Fair self-released their seminal first album as Half Japanese in 1977, citing punk forefathers (and fellow Michiganders) MC5 and the Stooges as critical influences. They followed that with over a dozen full-length albums and countless singles, not to mention Jad's collaborations with Yo La Tengo, the Pastels and Teenage Fanclub.Meanwhile, Daniel Johnston had self-recorded his first songs on the family piano with a boombox between 1980-82. These songs would eventually make up the earliest of the twelve cassette releases which he hawked on Austin, Texas, street corners, a few of which were re-released by Homestead Records, and were subsequently followed in the early '90s by his two stunning studio classics for Shimmy-Disc (1990 and ARTISTIC VICE), and his one and only record for Atlantic Records (1994's FUN). A Beatles fanatic at heart, "a healthy number of discerning musicians and critics have hailed Daniel Johnston as an American original in the style of bluesman Robert Johnson and country legend Hank Williams." On this new expanded reissue -- which contains 6 bonus tracks not on the original version -- IT'S SPOOKY stands up as a true masterpiece, sadly overlooked in its day. A magical trip through the child-like universe of two kids at heart, it is even more impressive now with twelve years of perspective just how uninhibited Jad & Daniel are as they walk you through their best fantasies and worst dreams on IT'S SPOOKY's 25 originals and 6 covers (by the likes of Burt Bacharach, the Beatles, Phil Ochs, and Austin friends and co-conspirators the Butthole Surfers and Glass Eye).Also, as a special added bonus, this reissue is an enhanced cd and features a very moving live video performance of Daniel on organ playing his "Don't Play Cards With Satan". This never-before-seen archival footage was shot by David Fair during the original IT'S SPOOKY recording session.

Reissued on June 18, 2001.