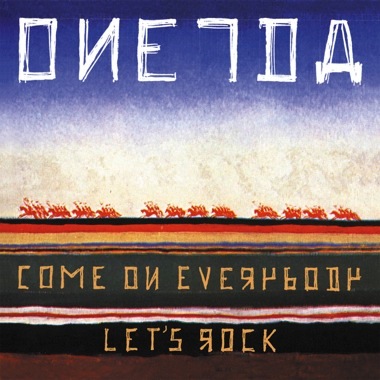 Come on Everybody Let's Rock
Artist
Label
Release Date
2000-11-13
Oneida:
Come on Everybody Let's Rock
We will concede this to the latte-sipping coffee table theorists of the world. When it comes to the small slice of pop culture called American rock music over the last three decades, a profound shift did occur when the National Minimum Drinking Age Act was signed into law on July 17, 1984 by Ronald Reagan. The rock farm leaguesãtraditional rock and roll venuesãtook a big hit in the nose, and ever since rock music has been less "substance-tial."

Well, thank God for Oneida.

With their third full-length record COME ON EVERYBODY LET'S ROCK (their first full-length record for Jagjaguwar), Oneida conjure up the spirit of a forgotten past -- from the heaviosity of Deep Purple and Blue Cheer to the hooks of Humble Pie and Foghat to the attitude and dirty swagger of early Alice Cooper Band. The Brooklyn rock band also lives up to the tale of the tape, hands down being the best live band in New York City at this very moment. So infamous are their live performances that even overseas the British press makes it their business to hail Oneida as purveyors of the burgeoning New York City "Loft Party" scene (the new rock farm league?). Best of all, Oneida are smart and are as rooted in the present as they are informed by the past. Consider for instance their take on the global economy as poignantly expressed in "Doin Business in Japan":

When I do business I do it in Japan / I am signing contracts that I don't understand /But it don't matter when the deal is done / I'm getting higher than the rising sun

Stand clear of the mirror and get away from mom and dad's robitussin. This is the great rock record by Oneida we all have been waiting for.