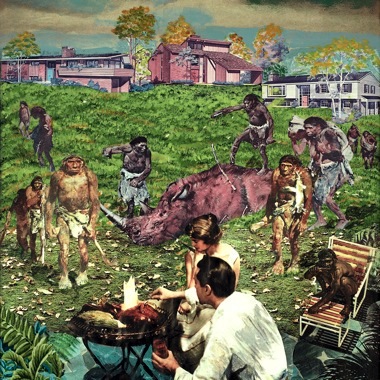 Dark Clock
Artist
Label
Release Date
2013-06-25
All Tiny Creatures:
Dark Clock
"Dude, look what I just got." It started with a text. All Tiny Creatures' founder Thomas Wincek was at work on the new album. He'd just found a Rockman, the headphone amp designed by Boston founder Tom Scholz. A guitar DI Box with multiple effects built in, it's what Def Leppard used all over Hysteria. I had no idea. For those vast radio jams of my youth, my brain had been the effects processor.

A couple months later, I was listening to Drexciya, watching King Crimson live videos, and hearing Beach Boys songs I never knew existed. Wincek was leaving a note for me before I time traveled. I was learning the secrets of Dark Clock. All Tiny Creatures' second album is an ode to the intertwined bodies of music and technology. A familiar, primordial ease is wrapped up in pulsing electricity. In ten songs, the Wisconsin-based four-piece reminds us that our blood-filled frames are responsible for making the tangle of wires around us. We're still inventing fire.

All Tiny Creatures is Wincek, along with Andrew Fitzpatrick, Matt Skemp, and Ben Derickson. Wincek, Skemp, and Fitzpatrick are also part of Volcano Choir, the sonic collision between Justin Vernon and the venerable Collections of Colonies of Bees.