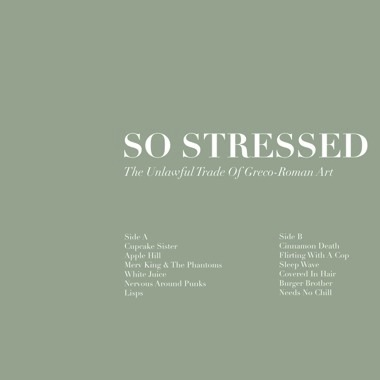 The Unlawful Trade of Greco-Roman Art
Artist
Label
Release Date
2015-05-26
So Stressed:
The Unlawful Trade of Greco-Roman Art
So Stressed initially began in Sacramento, CA as a largely improvisational noise project that included the band's three members (Morgan Fox, Andrew Garcia and Kenneth Draper). Over time, the lineup was refined and their sound coalesced into what's heard on 'Unlawful Trade,' a technically meticulous but anxiety ridden and sometimes terrifying cry which calls to mind everything from Q and Not U to No Trend and the Minutemen. At times, Fox's lyrics bring to mind the emotional distress and social reservation seen in Wire and Wall of Voodoo.

The fact that their sound is so violent and tense as to be physically disarming is almost deceptive; the members of So Stressed are kind, conscientious and smart young men. Writing this album took more than two years (and recording took more than six months) due to a common habit of throwing away fullyformed songs deemed to be even slightly less than perfect. All this was done with no goal in mind - if no one wanted to release it, Fox says, "we were just going to delete it." Honor Press could not be more pleased to offer this as our first release.