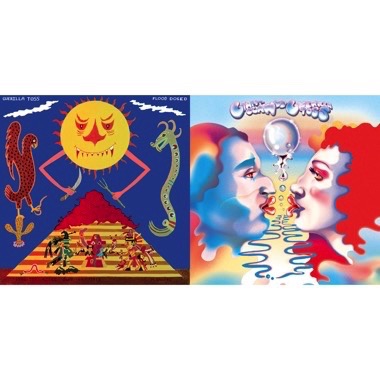 Flood Dosed EP / Giant Claw VS Guerilla Toss Remix EP
Artist
Label
Release Date
2016-10-14
Guerilla Toss:
Flood Dosed EP / Giant Claw VS Guerilla Toss Remix EP
Guerilla Toss are set to release their EPs Flood Dosed and Giant Claw VS Guerilla Toss bundled for the first time on Compact Disc on October 14, 2016.

Flood Dosed was DFA's first release from the incomparable New York-via-Boston Guerilla Toss. Guerilla Toss have lived by (admitted fan/supporter) Henry Rollins "Get in the Van"-style promotion; touring extensively around the USA, Canada, and Europe since their inception in 2011. They played pigsties, punk houses, liberal arts colleges, and the occasional opening slot for iconic bands such as Mission of Burma, Merzbow, & Black Dice. Recently, the band affixed a Grateful Dead "steal yr face" decal to the bumper of their well-traveled minivan - a signifier of their commitment to unique setlists and unpredictable surprises at each and every performance. Guerilla Toss have also been prolific recording and releasing multiple releases on vinyl, tape, and CD on respected underground labels such as Feeding Tube, John Zorn's TZADIK, NNA Tapes, Infinity Cat and others.

Giant Claw VS Guerilla Toss is the remix/version/reworking of Guerilla Toss' music, a musical creation mixed, manipulated and imagined through the prism of ideas that is Giant Claw (Orange Milk Records). Giant Claw is also known to many as Keith Rankin, an in-demand artist / graphic designer, tied to Guerilla Toss by illustrating the bold LP images from their DFA debut LP Eraser Stargazer, as well as the cover for this very release. Giant Claw takes five prime Guerilla Toss tracks and zaps them with his wild blend of elastic 808 rhythms, merging the crazy R&B vocal sample style he is known for with Kassie's sing/shout rapid-fire poetic delivery. It is a unique formula and it sees Giant Claw find a surprising elements or two or three within all five "versions". The through-line that pulls all tracks together is the faithful analog stems VS MIDI triggered fully digital sounds, all clashing together into a glorious groove.