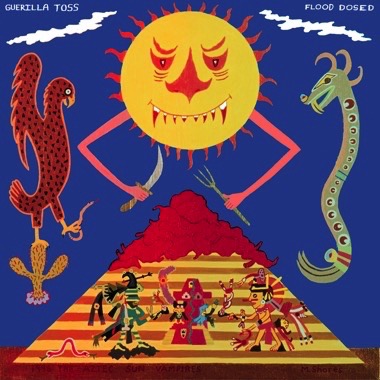 Flood Dosed
Artist
Label
Release Date
2016-10-14
Guerilla Toss:
Flood Dosed
Flood Dosed was DFA's first release from the incomparable New York-via-Boston Guerilla Toss. Originally released only on cassette and digitally, Flood Dosed is now available on vinyl for the first time. It now includes a bonus vinyl exclusive track "Teacher Speaks" which was recorded in the same sessions as the rest of the EP.

Guerilla Toss have lived by (admitted fan/supporter) Henry Rollins "Get in the Van"-style promotion; touring extensively around the USA, Canada, and Europe since their inception in 2011. They played pigsties, punk houses, liberal arts colleges, and the occasional opening slot for iconic bands such as Mission of Burma, Merzbow, & Black Dice. Recently, the band affixed a Grateful Dead "steal yr face" decal to the bumper of their well-traveled minivan - a signifier of their commitment to unique setlists and unpredictable surprises at each and every performance.

Guerilla Toss have also been prolific recording and releasing multiple releases on vinyl, tape, and CD on respected underground labels labels such as Feeding Tube, John Zorn's TZADIK, NNA Tapes, Infinity Cat and as well as their most recent full-length LP Eraser Stargazer for DFA in the spring of 2016.