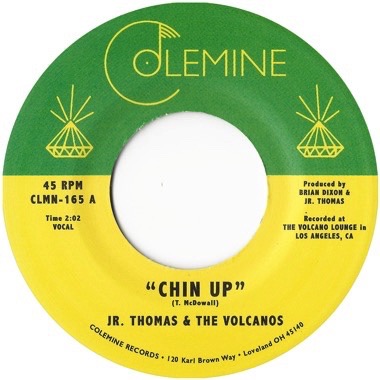 Chin Up / Spellbound
Artist
Label
Release Date
2018-09-21
Jr. Thomas & The Volcanos:
Chin Up / Spellbound
You might not think of Minneapolis, MN as a hotbed of reggae, but you'd be hard pressed to find any other current artists making a more authentic reggae product in 2018. Jr. Thomas & The Volcanos are well steeped in JA music and the culture around reggae. They are commonly referred to as sweet reggae or rocksteady. Combining JA rhythms, sweet soul harmonies, and tuff production.

"Chin Up" is a single from the forthcoming LP titled Rockstone on Colemine Records. It epitomizes what traditional rocksteady should be. Sweet harmonies, catchy hooks, and classic JA rhythms. The super sweet B-side, "Spellbound", is exclusive to this 45 and will not appear on the LP.