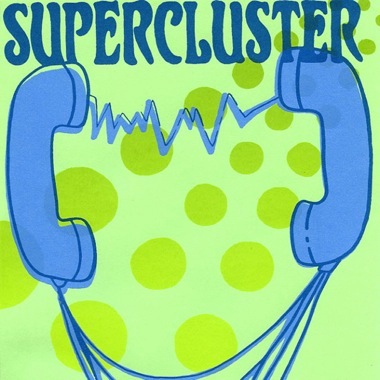 I Got The Answer b/w Sunflower Clock
Artist
Label
Release Date
2010-06-08
Supercluster:
I Got The Answer b/w Sunflower Clock
In a world where some people prefer the crisp sound of digital recording, while others prefer the warmer sound of vinyl, Athens, Georgia super-group SUPERCLUSTER offers its audience the opportunity to experience the best of both genres. Supercluster's first CD, Waves, was released in 2009 to critical acclaim.

In a nod to the old school, Supercluster has now released two of its most popular songs, "I Got the Answer" and "Sunflower Clock" as a 45 on heavy mixed color vinyl, sure to become a collector's item. The seven inch single comes with a hand-screened mini-poster, signed and numbered by Athens artist Amanda Burk. The mini-poster and record are limited to an edition of three hundred. Jason Nesmith of Bel Air Studios produced the 45, and Rodney Mills at Masterhouse mastered the recording. Hannah Jones (THE NEW SOUND OF NUMBERS, SUPERCLUSTER) designed the label. This is from Studio Mouse Productions, distributed by Cloud Recordings. Features members of PYLON, THE OLIVIA TREMOR CONTROL, CIRCULATORY SYSTEM, THE NEW SOUND OF NUMBERS, CASPER AND THE COOKIES, etc. Limited Edition, hand-numbered. Recently opened for the B-52's.