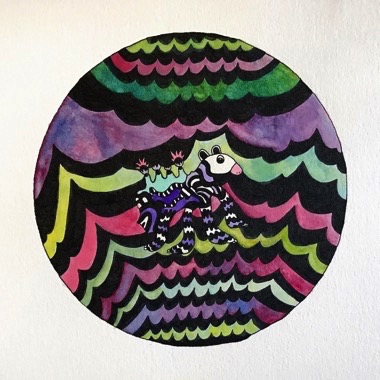 Swim Inside The Moon
Artist
Label
Release Date
2017-08-25
Angelo De Augustine:
Swim Inside The Moon
Swim Inside the Moon is a record by 24-year-old Angelo De Augustine. This second full-length of Angelo's career captures a sound he's been looking for since he started playing music a decade ago:

"A sound behind the voice," says Angelo, who recorded all of this record in his bathtub using a reel-to-reel machine and a single Shure SM57 microphone. "I noticed that when you sing off a reflective surface you hear two voices. I was compelled to isolate that voice and bring it more to the front of the songs because in many ways I feel more connected to and comforted by that voice following me."

Listeners might hear Nick Drake's intricate arpeggiated guitar parts, Elliott Smith's pure vocals, or, at times, a likeness to the soulfulness of artists such as Vashti Bunyan, Judee Sill, and José González. But for Angelo's part, he found this sound on his own terms. As to what these songs mean, well, that's harder to say. "I couldn't tell you," says Angelo. "I get into this place, and then I wake up with a song instead of a dream."