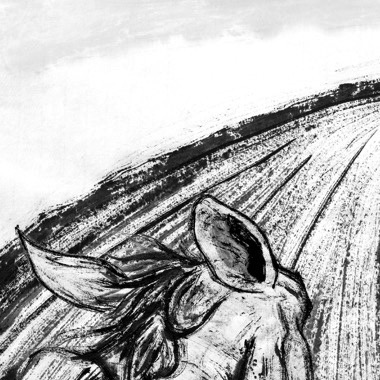 Title
Artist
Label
Release Date
2018-12-07
Gong Gong Gong: Siren / Something's Happening
Beijing's Gong Gong Gong make driving, stripped-down transnational blues, tapping into the spirit of Bo Diddley, the Monks, and psychedelic music from West Africa to South- east Asia. "Phantom Rhythm" is the concept at the duo's core: between Tom Ng's percussive guitar and Joshua Frank's melodic, charging bass, an aura of ghostly snare hits emerges over a thumping low-end pulse. Atop this framework, Ng recounts Cantonese tales of absurdity, love and lust with fragmented, wry vision.

On their first US release, Gong Gong Gong brings to life a cinematic chase scene. Shot-by-shot, frame-by-frame, "Siren" is a story of galloping hooves and screeching tires - a horse and car racing each other through mountains and desert, charging into the city. The flip-side, instrumental "Something's Happening" is Gong Gong Gong at their most raw: locomotive jangle and fuzz-faced roar. Dust, sweat and engine oil, the landscape rushing by.
Public Practice: Distance is a Mirror
The debut EP from New York band Public Practice, Distance is a Mirror, is a confident, juried testimony of love steeped in dark optimism. Dry, deadpan vocals chant over skittish guitar and danceable 70s grooves - songs snapping like rubber bands - seesawing between post-punk and its insomniac twin sister disco. With contradicting references as overt as Talking Heads (without the shoulders), but as specific as Haruomi Hosono of Yellow Magic Orchestra (with some polka dots), the band is carrying a funky torch that does not get lit too often.The four members of Public Practice - singer Sam York, guitarist Vince McClelland, synth/bassist and vocalist Drew Citron, and drummer/programmer and producer Scott Rosenthal - are no strangers to song writing. A Brooklyn DIY super group of sorts, Public Practice combines members of freshly-dead punk project WALL and local pop band Beverly. Public Practice backs their ambitious songwriting with serious chops, their live shows already pulling them into the sharp foreground of a scene growing all too warm-and-fuzzy.

This 4 song debut EP anchors Public Practice as a new band with wisdom like their influences, bringing songs distinctly fresh as they are familiar. Tired of the familiar? Seeing dots? Wake up!