Bodies Of Water: Twist Again
Since Bodies of Water's last record, 2008's 'A Certain Feeling,' much has happened to them; travels throughout N. America in their stalwart motor-home, the departure and arrival of various band members, the unexpected notoriety of core duo David & Meredith's crypto-disco trio 'Music Go Music,' and the construction of their drafty yet dependable home studio. From this milieu has emerged the singular statement that is "Twist Again." Recorded and mixed at home by David and (a newly pregnant) Meredith in Highland Park (their northeast L.A. neighborhood), the album is a work out of time. It sounds like no other record of 2011, or maybe any other era. The album seems to have escaped the stamp of the cut & paste digital age - it sounds like people playing music together in a room, which it essentially is.
Bodies Of Water: A Certain Feeling
One year after the self-release of the acclaimed "Ears Will Pop & Eyes Will Blink," Bodies of Water have created another full-length offering. "A Certain Feeling," their first record for Secretly Canadian, was written, arranged and recorded in David & Meredith Metcalf's house in the Northeast L.A. neighborhood of Highland Park. The strains that one can hear running through all of Bodies of Water's music are fully exhibited here; instantly familiar melodies, rich harmonic color, expansively deft arrangements, and compositions that ebb, flow, and double back on themselves in cathartic synchronicity. Though no two songs sound entirely similar, it's a cohesive that comes out feeling like the anthemic prog/gospel/psychedelic/kraut-tribal movie score that Ennio Morricone and Phil Spector never got around to collaborating on. The choral hugeness that typified "Ears Will Pop" still rears it's emphatic head, only here it is more often held in reserve while we marinate in each movement before being pulled along into the next passage of the narrative.

"A Certain Feeling" is the sound of a group carving out an ever-evolving, but distinct aesthetic niche for themselves. Steve Reich organ figures meet brutal Sabbath-meets-Wagner riffing. A shape-note choir is dropped into the midst of an Upsetters/ESG jam. Musique concrete meanderings beget Velvet Underground plodding that escalates into a five-time tropicalia workout. In spite of (or because of) the record's breadth, it is easy to see the group's fingerprints all over. The singing, playing, compositions, lyrical themes (obsessive meta-physicality/spiritual surrender/human frailty) are unmistakably theirs. "A Certain Feeling" is a step forward, but assuredly filled with the same beautiful urgency that we have come to expect from them.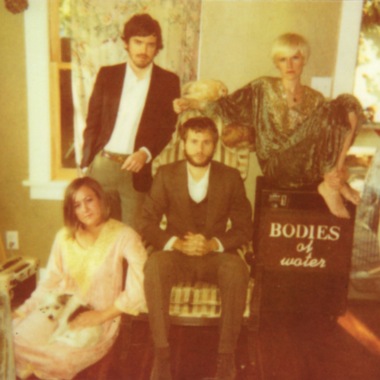 Title
Artist
Label
Release Date
2008-01-22
Bodies Of Water: Ears Will Pop & Eyes Will Blink
Bodies of Water started in David Metcalf and Meredith Arthur's closet. They were newly married and lived in a very small house. The closet was the only place to put the computer that they used for recording. They eventually formed a musical group to play David's songs. Meredith figured out the piano, and their friends Kyle Gladden and Jessie Conklin learned to play the bass and drums, respectively. In the ensuing years, the four have learned to deftly spin those threads which inevitably weave their way through every Bodies of Water song: ebullient group singing, melodic invention, thundering polyrhythms, and sublime dramatic tension. 'Ears Will Pop & Eyes Will Blink' is their first full-length record, and the first release from the band's own Thousand Tongues label. The songs stray from verse-chorus structure but are engaging and memorably crafted, drawing on an admixture of traditions; the transcendent intensity of gospel, brutish gusto of punk rocking, earnest idiosyncrasy of American folk, sonic inclusiveness of tropicalia, planned jamming of prog, and the sincere bombast of musical theatre. These songs can be likened to a sort of emotional topiary; an unruly living mess lent its shape by the psychic framework around which it grows. Since its inception Bodies of Water have added an auxiliary corps of musicians and when playing in L.A. their ranks can swell to as many as 11; hitting, blaring, strumming and bowing away. The four core members' vocal synchronicity remains the group's hallmark. Their calls, responses, shouts and harmonies ride above and around a retaining wall of sound in a fleeting burst of neo-tent revival immediacy.