The Shivas: You Know What To Do
Recorded at K's own Dub Narcotic Studios, The Shivas' fourth LP will have you on your feet. With all of the fierce energy and body shakin' that The Shivas are known for, You Know What To Do (KLP252) encapsulates that, and much more. Recorded and mixed on tape by Calvin Johnson, it is an apt follow-up to WHITEOUT (KLP242), and features the title track of The Shivas, "You Make Me Wanna Die 7" EP" (IPU143) released last April. Amongst the 13 tracks of the album, you can glance the many faces of the The Shivas' musical style. From the blistering heat of tracks like "Old Lightning Rod" to the cool groove of "Ride On", the record also touches down into the slower tempos on tracks such as the deeply psychedelic "Let It Happen To You". This is The Shivas record we have all been waiting for, so don't hesitate, you know what to do.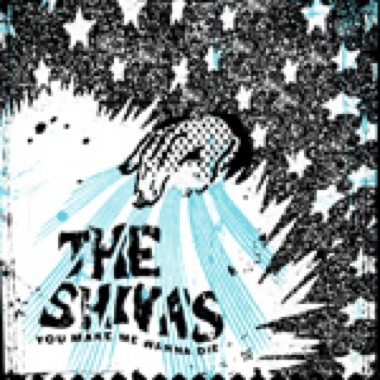 Title
Artist
Label
Release Date
2014-04-01
The Shivas: You Make Me Wanna Die b/w Whiteout and So Far Out of Control
The Shivas are Portland's premier surf-rockers and back-ealley dance party rollers, lovers of '60s pop and psychedelia, but players of something modern and mischievous. "You Make Me Wanna Die" makes you feel like you're watching hte kids do the monkey on The Corny Collins Show, hair up in beehives and arms goin' wild. It's a song of love gone way too good or way too bad, but either way you spin it, they got passion. Flip it over for "Whiteout", the ttitle track from their last LP (KLP243) that got left on the cutting room floor but remains the most infectious surf riff you'll hear this decade, featuring a cameo by Calvin Johnson at the 15 second mark. Closer, "So Far Out of Control" sees Jared Molyneux going solo in Dub Narcotic Studios and recording everything himself onto a reel to reel eight track. It's catchier than the flu, but feels way better.
The Shivas: Whiteout!
The Shivas are friends and sweethearts who grew up playing music together, launching Kickstarters for a tour van and then coming of age driving that van around the country. Having played literally hundreds of shows together just after high school, The Shivas' joy and serious performing chops set them apart from other surf-pop bands in the swarming Portland music scene. Like their Burger Record cassette-mates Thee Oh Sees before them, The Shivas' sweet harmonies and sun-baked sound harkens back to the origins of surf rock, and are too compelling for the physical senses to refuse. Jared Molyneux (guitar; vocals), Kristin Leonard (drums, vocals), Eric Shanafelt and Robert Mannering are tight, precise, and deliciously fun Their sweet, reverb-laden LP Whiteout! (KLP243) debuts on K this spring,