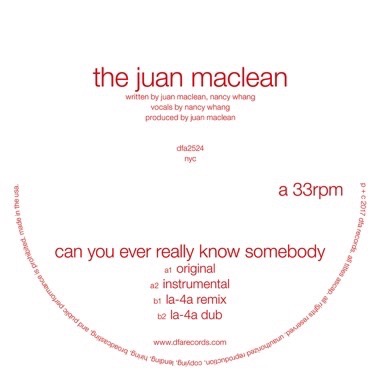 Title
Artist
Label
Release Date
2017-05-05
The Juan Maclean: Can You Ever Really Know Somebody
The Juan Maclean return to DFA with a stand-alone single, bursting with deep house elastic bounce and electronic pop flourishes, married to the deadpan earnestness of Nancy Whang's vocal delivery."Can You Ever Really Know Somebody" is the kind of slinky song that is easily absorbed and difficult to forget. It is a taste of things to come, as The Juan Maclean prepares a brand new LP for DFA due out in Fall 2017.The remix is courtesy of LA-4A, aka Ambivalent and legally known as American born producer Kevin McHugh. Stripping out the house music and replacing it with a grinding electro-acid template, LA-4A creates a lovely buzzing new bed of music for Nancy Whang's vocals to rest on top of it. This is a remix with wildly successful results and a perfect companion to the original.
The Juan Maclean: In A Dream
The dance world way too often privileges the new, and not many dance artists write albums as good as In A Dream, the third full-length album by The Juan MacLean, this far into their career. The Juan MacLean have weathered electroclash, disco-punk, electro-disco, techno, house, deep house, and whatever we can call the sound of today. They never feel totally in step with the moment, but somehow always feel right and necessary. Put differently: there's always something exciting to say about these guys.

Let's start with Nancy Whang. Nancy's voice has always been a kind of secret weapon on The Juan Maclean records, but this album is her triumph. Just take a look above at the album art where she's front and center This is the Nancy Show - you get all sides of Nancy on this record, a wide range of expression. These are all love songs, but emotions run wild. And you can't pull this off without Nancy - she's not living in these songs, she's leading them.

The first full-length by The Juan Maclean since 2009, comprised of entirely new material.