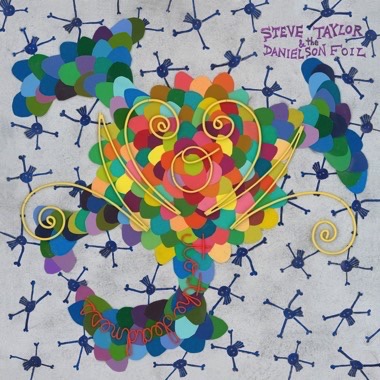 Title
Artist
Label
Release Date
2016-03-18
Steve Taylor & The Danielson Foil: Wow To The Deadness
Steve Taylor & The Perfect Foil toured the U.S. with Danielson in support of their acclaimed Goliath album. The resulting friendship found the band configured as Steve Taylor & the Danielson Foil recording with engineer Steve Albini at his famed Electric Audio studio.

Wow to the Deadness is the resulting whipcrack 6-song EP that applies scalding punk rage to delightfully cockeyed song structures, making for an EP without many clear musical parallels. It's Magazine covering the Godspell soundtrack or the Buzzcocks trading verses with the Free Design. More than anything, Steve Taylor & the Danielson Foil is the sound of two acts scrapping every rule of songwriting and following their own impulses. Wow to the Deadness that combines the sensibilities of both for a batch of songs full of hairpin musical left turns and sharp, deftly-observed lyrics. Every time you think you've got its sound pinned down, it shape-shifts again, transforming into something entirely new -- fantastically confounding, and utterly irresistible.

As Albini said of the record, "It ended up being really raucous and really great."
Steve Taylor & The Perfect Foil: Goliath
Longtime friends and frequent creative collaborators, Steve Taylor & The Perfect Foil (Jimmy Abegg, guitar; John Painter, bass; Peter Furler, drums) is a natural assemblage of diverse talents with a common drive - to rediscover the thrill of creating music unencumbered by the confines of industry limitations and reins.

Steve Taylor had a solo career in addition to a run with the band Chagall Guevara. Not since the New Radicals did a band break up so quickly after one acclaimed album, but Taylor emerged from the embers to move more to the production side of things and start his own label. Disillusionment with the business side of the music industry pushed Taylor toward filmmaking, with two theatrical features to his credit, including the low-budget indie Blue Like Jazz, the funding campaign for which helped put Kickstarter on the map. That project's success led Taylor to also use the same crowdsourcing site to raise money for Goliath, his return to music after years in the indie-film wilderness.

With their debut, the band poised to share their intelligent yet primal indie rock sound for those with discriminating tastes and a deep appreciation for independent thinking, razor-sharp lyrics, and white noise distortion.