Saltland: A Common Truth
The second album by Saltland, the solo project of veteran Montréal cellist and composer Rebecca Foon (Esmerine, Thee Silver Mt Zion, Set Fire To Flames). With A Common Truth, Foon presents a new song cycle that takes climate change as its theme (Foon is co-founder of Pathway to Paris, among other organizing and activist roles in the decarbonization movement) and features her cello as the primary source for all sounds on the record. The one notable exception: Warren Ellis (Nick Cave, The Dirty Three) is the sole invited guest player, contributing his inimitable violin (and pump organ) to the album's four instrumental tracks. A Common Truth is an album of gorgeous integrity, restraint, and meditative intensity that alternates between wordless instrumentals and lyric-driven pieces, balancing austere, organic intimacy and lush, multi-layered expansiveness. The naturalistic rock production of Jace Lasek (The Besnard Lakes) anchors Saltland's juxtaposition of dry and processed strings, with Foon's voice very much within the mix but never veiled or concealed; a voice described as "an instrument of somnolent, gossamer allure which floats gracefully amid the eddying, amniotic music" (Mojo). Electronic music strategies, via signal processing and re-sampling, are deployed minimally and judiciously - and all the more powerfully as such.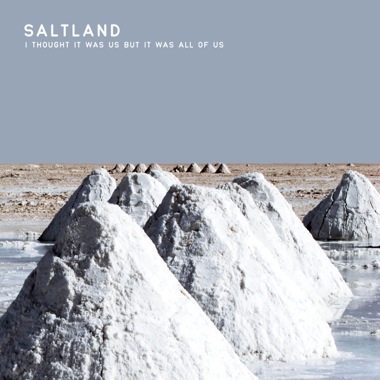 Title
Artist
Label
Release Date
2013-05-14
Saltland: I Thought It Was Us But It Was All Of Us
Saltland is the new project led by Montreal-based cellist Rebecca Foon (Esmerine, ex-Silver Mt. Zion), joined by Jamie Thompson (Unicorns, Esmerine) on miniature percussion, programming and signal processing.

I Thought It Was Us But It Was All Of Us is a beautifully restrained debut album that telescopes the directness and delicacy of Foon's compositional and vocal styles into lush, twilight atmospheres aglow with luminescent tendrils and flickering particles. Foon sings of childhood innocence lost, of serene utopic reveries and downcast dystopic horizons, and the search for soft, stoic strength in a darkening world, in most cases propelled by Thompson's handmade percussion and understated programming/processing.

The album's ambience also owes much to the work of Mark Lawson, the award-winning producer (Arcade Fire) who collaborated closely with Foon to record and mix these songs. With contributions from Laurel Sprengelmeyer and Jess Robertson (Little Scream), Mishka Stein (Patrick Watson), Colin Stetson (Bon Iver), Sarah Neufeld and Richard Reed Parry (Arcade Fire) among others, Saltland offers up an unassumingly immersive debut album of searching songs that blend several core influences into a distinctively naturalistic sound. Saltland stakes out a unique space where minimalism, shoegaze, dream-pop, coldwave, chamber music, drone and ambient/electronic coexist and coalesce.