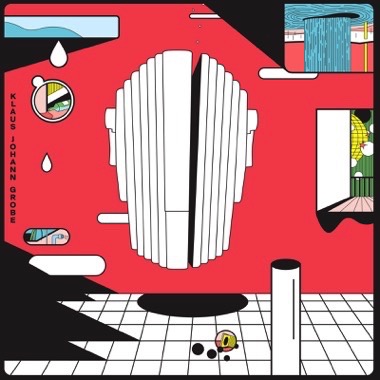 Title
Artist
Label
Release Date
2018-10-26
Klaus Johann Grobe: Du bist so symmetrisch
Swiss group Klaus Johann Grobe have been at it since 2012, and as they prepare to release their third album "Du Bist So Symmetrisch" (and third on Trouble In Mind), the group continues to defy description & blur thelines between electronic pop, dance music, synthesis & kosmische."Du Bist So Symmetrisch" follows the inevitable path laid out by their previous album (the Basel Prize-winning "Spagat der Liebe"), incorporating the slinky, jazz-fusion-laced grooves populating late night clubs and braiding them together with the band's own blend of mutant electro-funk. Driven by an organic, metronomic beat aligned with synth, chant-like vocals, and a monstrous funky bass, the music aims towards a certain kind of hypnosis, particularly as the sleeping pill echo-heavy vocals cycle over the locked grooves the pair throw down. "Du Bist..." begins with the cascading arpeggio of a synth, edging into view, before lurching into the placid dancefloor groove of the first single "Discogedanken". While the band invariably feels more at home in the club, Klaus Johann Grobe certainly aim towards the more dance-orientated arena of German music (see "Der König" or "Von Gestern"), aligning the metro pulse of Klaus Dinger and Kraftwerk's later techno work to more biological factors - like moss growing on the mainframe.
Klaus Johann Grobe: Spagat der Liebe
Klaus Johann Grobe continue to avoid easy classification with "Spagat der Liebe", the follow-up to their mind-scrambling 2013 debut album "Im Sinne der Zeit". The sinister, late-night grooves present of their debut have been tempered a bit, in favor of somewhat sunnier dispositions, calling to mind an ecstatic party somewhere in sunny Ibiza. Tunes like album opener "Ein Guter Tag" & first single "Wo Sind" feel like a warm up, preparing the listener for the four-on-the-floor propulsion of "Rosen des Abschieds" - a song tailor-made to sweat to. Elsewhere the fragile "Heut Abend nur" ("Tonight Only") & the synth-tickled "Ohne Mich" - which is closest the band has come to an honest to goodness pop tune - guides the listener by the hand towards floor fillers like "Geschichten aus erster Hand" and the absolutely DEVASTATING groove of "Liebe am Strand", which is anchored by a rubbery bass groove & a killer flute solo that takes it over the event horizon.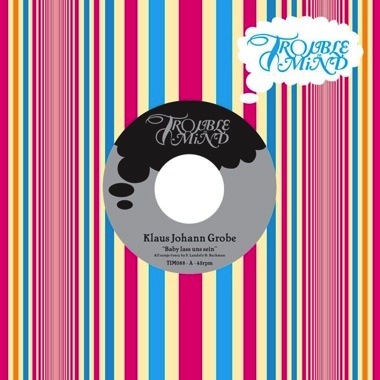 Title
Artist
Label
Release Date
2015-12-04
Klaus Johann Grobe: Baby lass uns sein b/w Ich bien nicht der Grund
Klaus Johann Grobe continue to confound listeners who dare to pidgeonhole them as a "psych" band with their newest single for Chicago-based Trouble In Mind Records, "Baby lass uns Sein" b/w "Ich Bien nicht der Grund". "Baby Lass uns Sein" is a mainstay of the group's live repertoire, a tender ballad that - depending on the band's vibe opens or closes their set with it's mellow metronomic pulse, lilting organ chords & tinkling Moog sparkles. The flip side "Ich Bien nicht der grund" is classic a KJG dance-floor-filler; it's stark beat & thumping bass grounding stratosphear-arching organ drones and chorded keyboard musings. Landolt guides his Moog Prophet thru an array of effects, oscillating it toward new, and decidedly weirder places. The 7-inch single of "Baby Lass Uns Sein" is pressed on black vinyl, comes housed in the Trouble In Mind company sleeve & includes a download code.