Jr. Thomas & The Volcanos: Rockstone
Jr. Thomas & The Volcanos' sophomore effort Rockstone is more thanjust a love letter to the roots of Jamaican music. It's an actual loveletter. Tom McDowall aka Jr. Thomas explains, "I could write a musicallove letter to all things I loved: my wife, my family, my friends, my bandmates. I could write a song to tell me to Chin Up when times gottough. I could give gratitude to the Jamaican artists that paved theway for the beautiful music we now call reggae. I could write a songabout what it's like to lose someone important to you. Or write a songto invigorate me spiritually. Music is healing and that's the besttherapy there is for me."Rockstone isn't just another throwback record to an era gone by. It's arecord that takes risks within the genre, but more importantly it's agenuinely honest record."I called the album Rockstone because true love cannot be defeated. Itlives forever. We write tributes on our tombstones because they live onbeyond our lives as a remembrance of something special andimportant to us."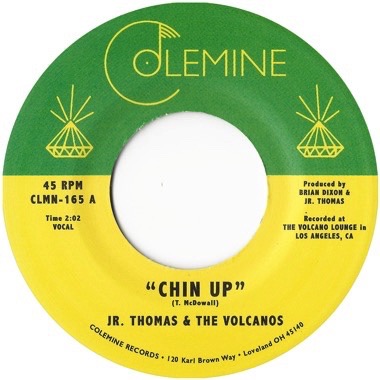 Title
Artist
Label
Release Date
2018-09-21
Jr. Thomas & The Volcanos: Chin Up / Spellbound
You might not think of Minneapolis, MN as a hotbed of reggae, but you'd be hard pressed to find any other current artists making a more authentic reggae product in 2018. Jr. Thomas & The Volcanos are well steeped in JA music and the culture around reggae. They are commonly referred to as sweet reggae or rocksteady. Combining JA rhythms, sweet soul harmonies, and tuff production.

"Chin Up" is a single from the forthcoming LP titled Rockstone on Colemine Records. It epitomizes what traditional rocksteady should be. Sweet harmonies, catchy hooks, and classic JA rhythms. The super sweet B-side, "Spellbound", is exclusive to this 45 and will not appear on the LP.