John Lennon / Yoko Ono: Wedding Album
Originally released in 1969, John Lennon and Yoko Ono's Wedding Album was the couple's third experimental, album-length record, and one of the most remarkable of the duo's testaments to an intense romantic and artistic partnership that would last fourteen years, until Lennon's tragic passing in 1980. On March 20, 1969, John and Yoko were married in a civil service in Gibraltar. To celebrate the event, in lieu of a conventional honeymoon, the newlyweds spent a week in bed at the Hilton Hotel in Amsterdam, inviting members of the press into their room for interviews and photo sessions, and using their fame and the publicity generated by their "Bed-in" to call attention to their campaign for world peace. With Wedding Album, John and Yoko created an enduring snapshot of a vibrant pop-cultural moment, with the hostilities of the Vietnam War as its bracing backdrop. It captures the humor, earnestness, and spontaneity that marked the early years of the "Ballad of John and Yoko" era. Wedding Album's innovative, original packaging, created by graphic designer John Kosh, included a box filled with souvenirs of John and Yoko's nuptials: photographs, a copy of the couple's marriage certificate, both Lennon's and Ono's drawings, a picture of a slice of wedding cake, and more. Now, with a faithful recreation of Wedding Album in limited-edition, white-vinyl LP; compact disc; and digital-download formats, Secretly Canadian and Chimera Music are making one of the most unusual and emblematic recordings of the Sixties available again - fifty years after John and Yoko were married - to mark the golden wedding anniversary of two of the 20th century's most emblematic cultural figures.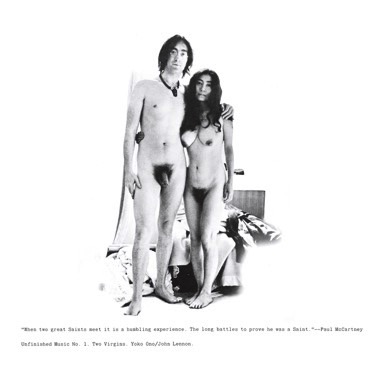 Title
Artist
Label
Release Date
2016-11-11
John Lennon/Yoko Ono: Unfinished Music No. 1: Two Virgins
Turns out the very sound of falling in love is just as abstract, subjective and loopy as the concept itself. Yoko Ono and John Lennon are two of history's greatest lovers, and Two Virgins is the document of the pair falling in love in real time. The album is a curious and amazing suite recorded over one weekend in Spring 1968 at Lennon's Kenwood home: Distant conversations; comedic role playing and footsteps; laughter, birdcalls and plunking piano lines; silly songs and space; tape delay stretching shrieks, bass rumbles and moans to the moon and back again.

The now-iconic cover (featuring Ono and Lennon standing nude together) notwithstanding, nothing about Two Virgins is safe. It would be a risky move today for artists in the larger, pop-culture conversation just as it was a risky move in 1969. But this is an uncomfortably private, two-person dialogue about - and celebration of - experimentation, inspiration and play. And these two souls bravely let us look through the keyhole.
Title
Artist
Label
Release Date
2016-11-11
John Lennon/Yoko Ono: Unfinished Music No. 2: Life With The Lions
Life with the Lions is the sound of Ono and Lennon validating their love as something impenetrable and timeless. It's when we, the listener, begin to fully understand that the scope of their recording efforts was much more than a recording collaboration, and something closer to a performative documentary, a declaration of "Our life and our love is our art - every nitty, gritty part of it."