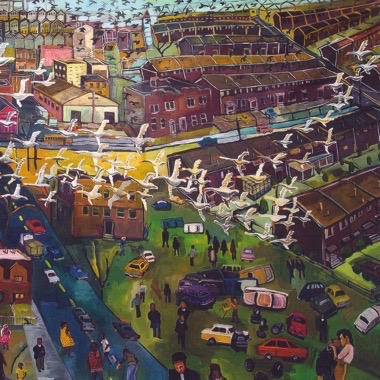 Title
Artist
Label
Release Date
2017-10-20
Jaye Bartell: In A Time Of Trouble A Wild Exultation
Jaye Bartell's songs are poetic yet candid and unafraid, formal but also spontaneous. His lyrics leap and land like dancers and are alive. It may not be apparent at first, but Bartell's songs are exultations that revel in the often unsteady but always moving life, filled with subtle humor and sincere love. Here we find Bartell working with expanded instrumentation and more sonic color. His vocals have been honed, hardened, and thoughtfully tempered, and there is sureness in his delivery, a paradoxical feeling that nothing is urgent despite the grave urgency of a song's subject matter. Recorded in his former home of Ashville, NC, In A Time Of Trouble features appearances from Angel Olsen, Shane Parish (Ahleuchatistas), and more. Bartell's third album for Sinderlyn is a record in the full meaning of the word - of sounds, of friendships new and old, of songs that compel repeated listens and that deepen and grow richer each time. Stay with these songs, and they will stay with you.
Jaye Bartell: Light Enough
Jaye Bartell's move to Brooklyn, NY in 2013, as well as the work Spalding Gray and Eileen Myles, heavily influence the content presented on his latest record, Light Enough. Bartell spent about a year secluded in his Greenpoint bedroom, piecing together the intricate tunes and gentle melodies that furnish his new record.

The songs on Light Enough encompass the processes of aspiration, pursuit, and fulfillment, if only to find that "[P]eople don't change. They only stand more revealed," as Charles Olson writes in Maximus Poems. In the album opener, "G & Me," Bartell sings of the joyful illusions of escape, "a whole new life" that's recognized, without bitterness as a "whole new lie." "Light Enough" is a declaration of sufficiency, as if to say, Let this be enough then, and if it isn't now, then it never will be: "I'm ready to come down," he sings. The record as a whole takes as a kind of informal edict a line from Eileen Myles' Chelsea Girls: "I have waited all my life for permission. I feel it growing in my breast. A war is storming and it is behind me and I am moving my forces into light."
Jaye Bartell: Loyalty
Born in Massachusetts, Jaye Bartell moved to Asheville, NC, in the early 2000s where he began playing music among friends as a parallel activity to his work with poetry and other writing. Writing was his main focus for most of a decade - a time that involved constant traveling and moving around the U.S., mostly between North Carolina and the Pacific NW, where he lived on a small island in northern Washington.

He released his first album, Feeling Better, Pilgrim, in 2008. The album incorporated live incidental sounds (wind, chimes, traffic, birds), some of which were manipulated and processed as loops, but emphasized vocal melody and lyrics above all.

Bartell moved back to Asheville in 2009 and recorded The Dog's Dinner. He continued to write, record, and perform intensively in Asheville for the next few years with Parish and other musician, although most of the recorded output came from live performances. He recorded the EP Elation with Asheville musician J Seger in 2012, as well as the full-length, full-band album Loyalty in 2013 with Parish, Seger, and Emily Easterly.

Bartell moved to Greenpoint, Brooklyn in the fall of 2013, where he began working on the new set of material that will furnish his next release - a set of songs that examine and resist transcendence, dissociation, and departure to "find a home on earth" as Robert Creeley wrote, and take images and inspiration from hot air balloons, Spalding Gray, and the neighborhood around McGolrick Park.