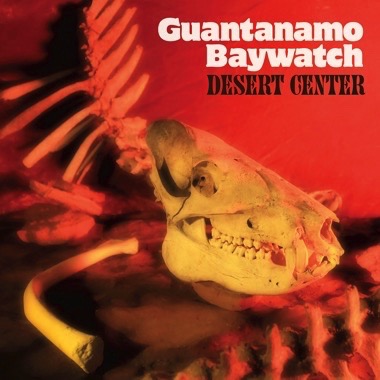 Title
Artist
Label
Release Date
2017-08-04
Guantanamo Baywatch: Desert Center
Guantanamo Baywatch's new album Desert Center opens with "Conquistador", an instrumental track displaying enough fretboard savvy and fiery twang to make The Challengers proud. But any notion that Guantanamo Baywatch is strictly adhering to one facet of rock n' roll's classic era is dispelled by the soulful swagger and unabashed pop of "Neglect". It's an inadvertent juxtaposition maintained through the entirety of Desert Center, with blazing instrumental nuggets like "The Scavenger" alternating with the proto-grunge and golden oldies mash-up of a track like "Blame Myself." Like their 2015 album Darling… It's Too Late, Desert Center was primarily tracked in Atlanta at Living Room Recording with Justin McNeight and Ed Rawls, with Jason Powell doing the bulk of the guitar tracks on his own at Jungle Muscle Studios. While Guantanamo Baywatch initially made a name for themselves with their early blown-out recordings, Desert Center retains the raw aesthetics of a Hasil Adkins single, but has the added heft and thump afforded by a modern studio. This balance is perhaps best captured on their lead single "Video", where bassist Chevelle Wiseman drives the tune with a thick, throbbing riff while drummer Chris Scott ruthlessly pounds his kit with a crashing clarity guaranteed to please even the most snobby analog audiophile.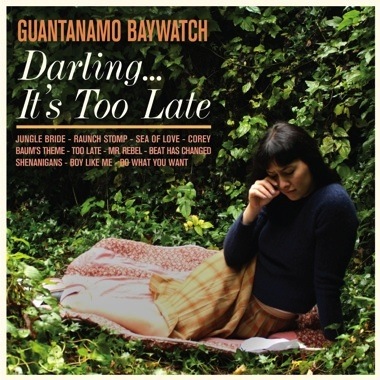 Title
Artist
Label
Release Date
2015-05-12
Guantanamo Baywatch: Darling... It's Too Late
With Darling… It's Too Late, Guantanamo Baywatch sought to harness and manipulate the sparkling sounds from yesteryear, all while staying true to the tape hiss and rough takes of analog recording. "We really wanted a mixtape compilation sound to the record," says Powell, and that approach can be heard in both the songwriting and the production. According to Powell, each individual song was approached with all the amps and the EQs on the recording console zeroed out. That meant that every song was recorded with a new template. The title track and lead single, "Too Late", perfectly captures this new aesthetic. With Burger Records soul singer Curtis Harding contributing backing vocals and rounding out the classic Motown ballad vibe of the track, "Too Late" is an enormous departure from the trashy Mummies-esque ruckus of their earlier recordings. Of course, the band hasn't completely abandoned the rowdy surf rock of their previous releases—Powell put the finishing touches on the album back at his Jungle Muscles Studio in Portland to keep that rough-hewn feel intact. But even when he and his bandmates Chevelle Wiseman (bass) and Chris Scott (drums) tread on their familiar territory with songs like "Raunch Stomp" or their cover of Eddie & The Showmen's "Mr. Rebel", there's a newfound clarity, punch, and swagger to their sound. Throughout the course of Darling… It's Too Late the trio continues to fuck with various subgenres, from the dusty Western twang of "Corey Baum's Theme" to the straight-outta-Sun Studios rocker "Do What You Want."

The LP is available in a limited pressing of 1,000 copies on Peaches-and-Cream color vinyl. A digital download card for MP3 is included.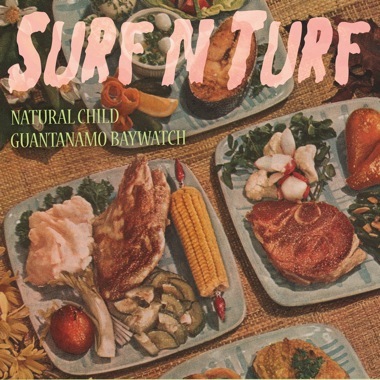 Title
Artist
Label
Release Date
2013-12-03
Natural Child / Guantanamo Baywatch: Surf 'N' Turf
There couldn't be a better title than Surf N Turf for a split 7" between Portland, Oregon's Guantanamo Baywatch and Nashville, Tennessee's Natural Child. While Guantanamo Baywatch bask in the coastal traditions of surf rock, Natural Child deliver the backwoods boogie of the landlocked Southern interior. To be fair, there's much more to GB than vibrato-soaked Mosrite guitars. The recent Suicide Squeeze signees offset their Dick Dale-styled twang with the trashy hybrid of garage punk and surf rock spewed out by The Mummies. Sure, "Raunch Stomp" is in step with the Ventures' tremolo-picking tradition, but a song like "Love This Time" explains why the band spent time on the boisterous Dirtnap Records roster. Neither is Natural Child to be mistaken for mere good ol' boy sons of Skynyrd. Though they've certainly got a knack for a country-fried ballad (as evidenced on "Don't Wake The Baby") or a sweetly stoned fuzzed-out lead on guitar, the trio are better suited for sharing a beer-soaked bar stage with fellow Nashevillians JEFF the Brotherhood and Heavy Cream than headlining the mainstage at the state fair.