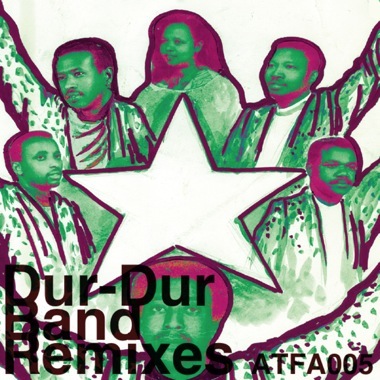 Title
Artist
Label
Release Date
2013-06-11
Dur-Dur Band: Dur-Dur Band Remixes
The international re-release of legendary Somali outfit Dur-Dur Band's Volume 5 celebrates the vibrant Mogadishu music scene of the 1980s. On the heels of that successful release comes Dur-Dur Band Remixes, a digital EP featuring reworkings by two crucial American producers: Airbird, aka Joel Ford, co-founder of the Software label and half of electronic duo Ford & Lopatin; and Secret Circuit, who is Eddie Ruscha, creator of a much-adored catalog of recordings for RVNG Intl., Beats in Space, Emotion Response along with his own self-released tapes and EPs.

Dur-Dur Band's distinctive sound is a jumping off point like no other for these two artists. Airbird strips down the disco romp "Dooyo" into an ethereal meditation with slowly mutating midranges. When the vocals finally rise from a bed of multiplied rhythms and angelic keyboards, the track approaches its sublime finish. Secret Circuit unleashes his signature dub/disco/acid sensibilities, layering and manipulating elements of the brief "Dur-Dur Band Introduction." He starts with a new beat and transforms it into a dubbed out synth delay with whispers of the guitar line and handclaps. The spoken word bits from the original version leak out in a dream-like trickle as the groove deconstructs and ultimately fades away.
Dur-Dur Band: Volume 5
Dur-Dur Band emerged in the 1980s, during a time when Somalia's contribution to the creative culture in the Horn of Africa was visible and abundant. Seeking inspiration outside the impressive array of Somali traditional music that was encouraged at the time, everyone from Michael Jackson and Phil Collins to Bob Marley and Santana were fair game. This recording, which was remastered from a cassette copy source, is a document of Dur-Dur Band after establishing itself as one of the most popular bands in Mogadishu. The challenge of locating a complete long-player from this era is evidenced bythe fidelity of this recording. However, the complex, soulful music penetrates the hiss. In a country that has been disrupted by civil war, heated clan divisions and security concerns, music and the arts has suffered from stagnation in recent years. Incidentally, more than ten years after Volume 5 (1987) was recorded at Radio Mogadishu, the state-run broadcaster was the only station in Somalia to resist the ban on music briefly enacted by Al-Shabab. Dur-Dur Band is a powerful and illustrative lens through which to appreciate the incredible sounds in Somalia before the country's stability took a turn.