DJ Katapila: Aroo
DJ Katapila's Aroo EP is the latest addition to the iconoclastic producer's catalog of fast-paced, pan-West African-influenced dance music. From a young age, Ishmael Abbey was a beloved local DJ in Accra, Ghana's competitive and rapidly-evolving music galaxy.

DJ Katapila's debut release with Awesome Tapes From Africa, 2016's reissue of Trotro, ignited international acclaim for the Ghanaian DJ and producer: The New York Times, Pitchfork, Resident Advisor and FACT heaped praise on his work. Katapila launched a touring career beyond his grueling schedule of all-night parties around Ghana's southern coast and neighboring countries, heading to Europe and the UK, where he performed at festivals and clubs the pasty two years. Katapila brought Ghana's street party culture to audiences overseas; a wave of joy and happy dancers were left in his wake.

The EP's final cut is a track released with a an eye-catching music video this summer called "Monkey." Following radioplay in Ghana and demand from fans online, this track makes its debut on vinyl.

Awesome Tapes From Africa is proud to present new music from this unmistakably original artist with an honesty and unpretentiousness that feels good at this current point in history.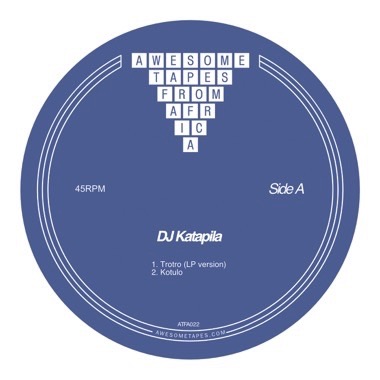 Title
Artist
Label
Release Date
2016-07-08
DJ Katapila: Trotro + Bonus Tracks
There's no other producer in West Africa like DJ Katapila. His album Trotro, reissued in March on Awesome Tapes From Africa, demonstrates a wild combination of breakneck rhythms steeped in his native Ga traditional dances. But the spiritual affinity his music share with the minimal sounds of early house and techno have not gone unnoticed by listeners worldwide. Ghana's tireless producer and DJ, aka Ishmael Abbey, singularly consolidates flavors. As new sounds wind their way from West African neighbors into urban Ghana - particularly the hectic and humid metropolis Accra - Katapila has absorbed and analyzed their insidious influence on local dancers and filtered them into his own works. The result is astonishing.

Two of the tracks here haven't been on wax before. This 12" single made specially for DJs and collectors adds to the lore of Katapila's days-long DJ sets and intensely original and (slightly bananas) FruityLoops-crafted minimalist productions. The two previously-unreleased tracks build on Katapila's international oeuvre significantly, painting a broader picture of what the iconoclastic road warrior dj-producer has been doing the past few years: making his own kind of electronic music that's both deeply personal and wildly international.
DJ Katapila: Trotro
DJ Katapila makes Ga traditional music using electronic sounds instead of live percussion to create his own kind of what he calls house music. In the context of Ghana's pop music landscape, Katapila's music is singular. The uptempo, bass-heavy, Roland 808-rooted sounds echo early 1990's Detroit techno and Chicago acid house more than the contemporary hiplife productions blasting across Ghanaian airwaves currently.

However, the structure of Katapila's sound directly descends from Ga musical lineage found around Accra. Neo-traditional dance music forms gome, kpanlogo and gyama are there.

DJ Katapila didn't start producing music until he was 39 years old. Around 1998, began chanting and rapping in Twi and Ga during instrumental breaks of songs he was DJing. He added Yamaha DD11 electronic drum pads and sampler and invented new creations on the fly. Katapila then began experimenting with program beats using Fruity Loops on his laptop.

His music reflects his love for the international dance pop that filtered into Accra's radio waves in the '90s: Inner City's "Big Fun"; C&C Music Factory's "Gonna Make You Sweat"; Crystal Waters' "Gypsy Woman"; even Rick Astley hits, among many others. Katapila mixed international tunes with highlife - J.A. City Boys and AB Crentsil - as well as hiplife, Ghanaian gospel, Jamaican dancehall, soca and regional Francophone hits. This blend helped set the stage for Trotro and the inspired yet minimalist dance music Katapila now creates.