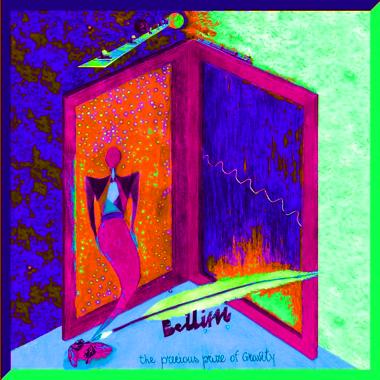 Title
Artist
Label
Release Date
2009-10-06
Bellini: The Precious Prize of Gravity
Recorded as always with long-time collaborator Steve Albini, The Precious Prize of Gravity is Bellini's most accomplished production yet. Guitarist Agostino Tilotta wraps a hundred notes per minute around the towering, sturdy rhythm section of Matthew Taylor and Alexis Fleisig (Girls Against Boys), while Giovanna Cacciola's poetic lyrics and smoky melodies alternately recall Grace Slick and PJ Harvey. With no less than four songs centering around the deaths of loved ones (including the heart-wrenching "The Thin Line," featuring Andy Cohen and Tim Midgett of Silkworm/Bottomless Pit), Precious Prize is lyrically Bellini's darkest album yet. Never wanting to repeat themselves, the songs are more complex and progressive than the comparatively stark Small Stones, with a driving, X-inspired cowpunk vibe throughout.
Bellini: Small Stones
It all began in late 2000 when Sicilian guitarist Agostino Tilotta (of Uzeda) formed Bellini with Damon Che (Don Caballero). Originally conceived as an instrumental duo, the two soon expanded the group to include Tilotta's wife Giovanna Cacciola (also of Uzeda) and Matthew Taylor (of The Romulans). They embarked on a small tour on the way to Chicago to record their debut album, Snowing Sun, with longtime friend Steve Albini at his Electrical Audio studios. In 2002 they toured Italy and the US in support of Snowing Sun. After enduring a string of cancellations at the hands of Hurricane Lilly, the band could not withstand the wrath of Hurricane Damon. Midway through their set in Athens, GA, Che quit the band in a well-publicized on-stage breakdown, literally leaving the band stranded with no vehicle or drummer. This is where the band calls it a day and catches the next flight home, right? Not quite. Taylor called his old friend Alexis Fleisig (Girls Against Boys, Soulside) to ask for help. Incredibly, Fleisig answered their cries for help. Having just walked in the door from an extensive GVSB tour when he got the call, he headed right back out the door with the GVSB gear and headed out on tour with Bellini, replacing Che only two days after the Athens meltdown. Learning all the songs in one day by listening to the CD in the van, Fleisig and Bellini got along famously, so much so that by day three he was a permanent member of the band.

Recorded in a whirlwind 5-day session in a dilapidated studio in Austin, TX (much of which was spent watching Albini repair neglected recording equipment), Small Stones is the sound of a band made stronger. More melodic, more rhythmic and more intense than anything Cacciola and Tilotta have ever been involved with, Tilotta's guitar stabs punctuate the relentless rhythm section, and more than ever before. And Cacciola sings, her voice exuding an assured power and effortless sexiness that eludes most contemporary vocalists. If Bellini had to endure tragedy before enjoying triumph, Small Stones is as brilliant a reward as they could have ever hoped for.
Bellini: Snowing Sun
If you aren't sweating already, let me throw some items your way. First, the band was formed from the finer arms, brains, and hearts of those that pioneered rock institutions Don Caballero and UZEDA. Second, they were recorded by Chicago soundlord Steve Albini at his homebase of Electrical Audio. Third, combining these forces, and the necessity to move on to new sounds, Bellini's debut, Snowing Sun, is the proof that their is still soul and life in human rock'n'roll. The sound is loud, the sound is aggressive, the sound is brutal. This will make you sweat.