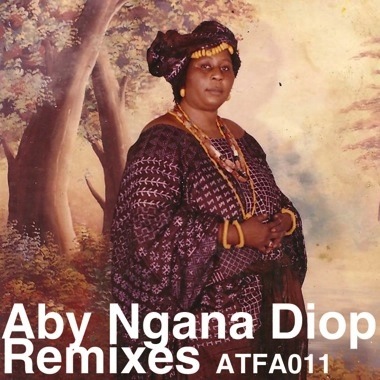 Title
Artist
Label
Release Date
2015-02-03
Aby Ngana Diop: Aby Ngana Diop Remixes
The worldwide release of Aby Ngana Diop's Liital tape this fall was a long time coming. A much-requested reissue that appeared on the blog years ago, Liital was met with a hail of critical acclaim upon its release. Now, a group of artists known for adventurous work remixes some of Diop's most striking songs. Black Dice, Orchestra of Spheres and Michael Ozone draw inspiration from Diop's vivid original recordings, presenting new takes on the seminal griot's frenetic and highly rhythmic songs. Orchestra of Spheres must be the most out-of-this-world band in music today. The Wellington, NZ outfit makes its own instruments and sounds like they come from another planet, where nonstop dance and remarkable melodies are the norm. Michael Ozone is a Melbourne-based producer who has absorbed an ever-expanding universe of influences, propelling his mercurial vision to listeners-in-the-know outside Australia. He builds a megamix out of Diop's songs equally suited for a thoughtful chill or a mellow dance. The long-running group Black Dice is a legendary force in American music, whose seminal body of work stretches across sensibilities and movements. Their startling approach to turning Diop's music inside-out takes a compelling turn in this brain-rattling remix. Although she passed away in 1997, Aby Ngana Diop's only cassette release lives on through the recent reissue and with these remixes, entering a new chapter of recognition among contemporary musicians around the world.
Aby Ngana Diop: Liital
Aby Ngana Diop was the most famous taasukat in Dakar, Senegal in the 1980s and 1990s. Taasu is a Wolof-language poetic style, usually performed by women griots over frenetic drum patterns, with an aggressive verbal flow thought to presage rap. Her only album Liital was groundbreaking in the history of Senegalese music because it was the first commercial recording to feature a traditional female taasukat performing to the modern accompaniment of mbalax, Senegal's quintessential pop genre. The distinctive style is captured in all its ear-popping, left-field glory on the recording, which was massively popular upon its release. Diop's powerful chants and incantations above urgent female chorus, cross-rhythmic blasts of the sabar and tama drums, as well as synthesizers, drum machines, hand claps, tambourine jingles and horse and train engine samples. When Aby Ngana Diop died unexpectedly on July 4, 1997, the country mourned her passing, but continued to celebrate her music. Although this cassette has caught the attention of some African music aficianados who have stumbled upon it in recent years, it remains largely unknown to the wider world. Hopefully this re-release from Awesome Tapes From Africa will change that.